PRODUCTS
Fruit Sorting Equipment (Internal Quality Sensor)

Fruit Sorting Equipment (External Quality Sensor)
Internal Quality Measurement System IMES10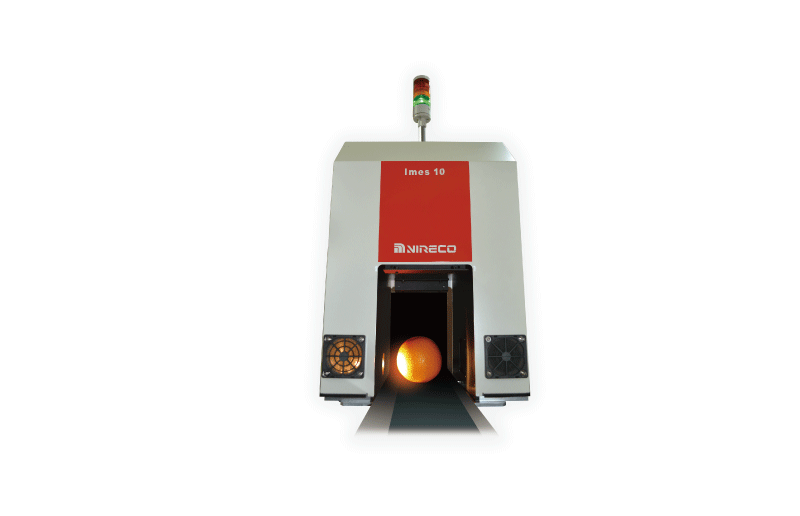 Overview
Proven performance and reliability through the customers around the world
Imes10 is an internal quality sensor by NIR technology. It measures internal quality ocndition such as brix, acid, and dryness (frost & granulation) of citrus, brix of peach, tomato and pear at during packing operation. Accurate measurement is performed by transparent method with halogen lamp. Operation is simple and making calibration is at ease. Maintenance work, such as changing halogen lamp, is also at ease.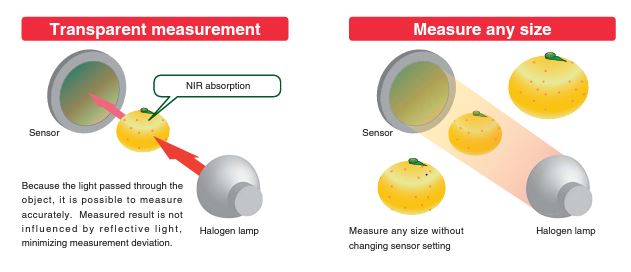 Feature
Non-destructive, fast measurement: Capable of measuring multiple specimens internal information at one time, under commercial packing speed (Max 10 pieces / Sec.)

Compatible with any sorting machine: Compact design allows for easy installation

The method of measuring light transmission enables accurate evaluation of the products: Stable measurement is possible without being affected by changes in the light intensity of the lamp.
Simple usability: Allows you to update calibration curb by yourself

Simple maintenance: Easy to change a lamp
Specification
Brix range
8~18Brix(Min unit:0.1Brix)
Brix (W/ SE)
≦0.45Brix
Acid range
0.3~2.0%
Acid (W/ SE)
≦0.2%
Fruit Temp.
0 to 35ºC (Ambient temp within ±15℃)
Fruit size

50 to 110mm (Height 30mm or more)

Measurement speed
Mandarin 10pieces/sec(size 50 to 85mm)
Power supply
AC100V±10% 50/60Hz Single phase
Consumption
Sensor: 250VA or less PC: 300VA or less
Environment

Temp Sensor : 0 to 45ºC

PC : 10 to 35ºC

Moisture Sensor : 10 to 85ºC(No condensation)

PC : 20 to 80ºC( No condensation)

Mass Sensor : 18kg
*These values are for reference only.
Contact Us
Please use this form to submit your inquiries, feedback and/or requests to NIRECO.