PRODUCTS
Print Quality Inspection Systems

Pouch Packaging Inspection Systems

Gluing Control Systems
Cold glue system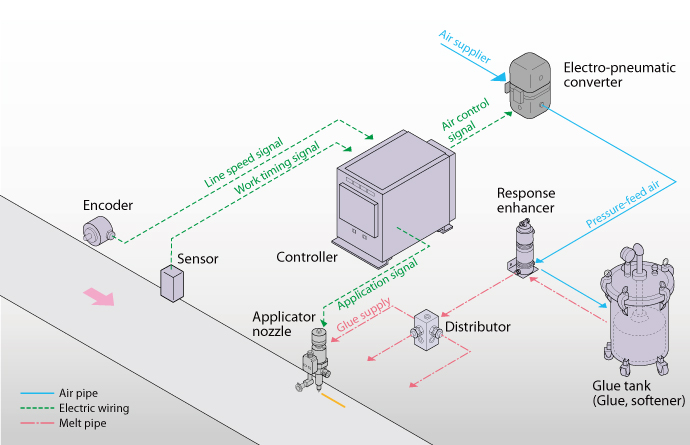 Overview
Cold gluing systems are used for gluing various kinds of business forms and are excellent for bookbinding, carton gluing sealing and other applications.
Our specialized controllers respond to changes in the speed of the conveyor line and the position of the job, to automatically govern the amount of glue, the application position and length, ensuring accurate, consistent gluing and improved productivity.
System components
System
Nozzle
Controller
Tank
Related equipment
Business form gluing systems
AN10-A03
AN10-A24
SM9000
LM200
GR-20BF
GR-10HA
GR-5HN
PC110
RS10
Web offset printing
Bookbinding
Bag making
Atomizing
AN20-CG-E03-N06
AN10-ABF-N
AN10-A03
AN10-AA03
AN10-AAW-N
SM5000
SM23
(Select by functions)

GR-20BF(0.2MPa)
GR-20HN(0.5MPa)
GR-10HA
GR-5HN
(Select by nozzles and volume)

Responser
RS10
Carton
Cardboard
AN20-CH-E03-N04
AN10-E12LS
AN10-E12MN
AN10-E24CD
SM5000
SM23
(Select by functions)
GR-20HN
GR-10HA
GR-5HN
(Select by volume)
Paper checker
PC300G
Overview of system components 

SM9000 series Controller
The touch-screen panel displays all the settings, making the system easy to program―even for a beginner.
▸SM9000 Details

Applicator nozzles
Glue can be applied rapidly and consistently, intermittently or continuously, driven electronically or pneumatically, to a high degree of precision.

Tank
The glue in the tank is propelled by compressed air from a pneumatic source to the applicator nozzle. The tanks have a glue volume warning device.
▸Tank Details

Encoder
The encoder measures the timing of the gluing and the speed of the conveyor line, and sends signals to the controller.
▸Encoder Details
Distributor
Glue is supplied from the glue pressure-feed tank to the nozzles.

Responser
This device can greatly improve the glue pressure response when the gluing equipment is rapidly starting and stopping.
▸Responser Details

Electro-pneumatic converter EN40
The EN40 converts electrical input signals into air pressure signals. Regardless of the line speed, the EN40 makes adjustments to ensure a consistent glue application.
▸EN40 Details

Paper Checker PC300G
This is a double-sheet feed detector for box-making machines. Besides paper, it can also be used with aluminum laminated paper, poly-laminated paper, plastics and a range of other materials. It can also handle a wide range of thickness, and the thickness in use can be selected from a switch on the operation panel for changeovers. The PC300G can detect double sheets that may occur due to the material or to operator error, and immediately prevents them from being fed in.
▸PC300G Details
Contact Us
Please use this form to submit your inquiries, feedback and/or requests to NIRECO.