PRODUCTS
Print Quality Inspection Systems

Pouch Packaging Inspection Systems

Gluing Control Systems
Skipmaster controller SM9000 series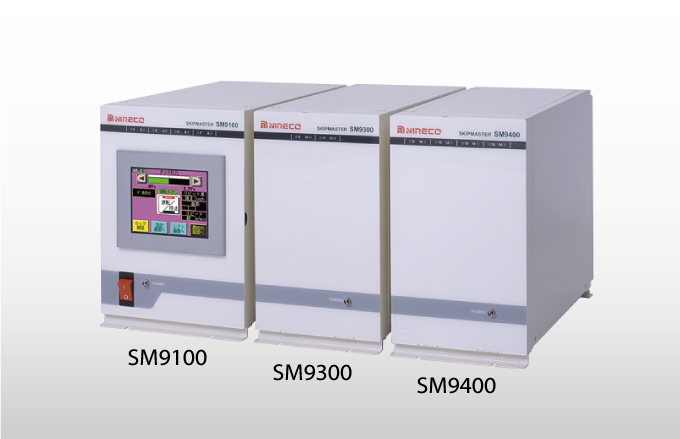 Overview
This is a controller for use in the gluing of business forms (slips, envelopes, etc.). It is easy to control glue lines and glue dot lines.
You can freely set up the gluing patterns that you want, such as glue skipping to avoid document tenting, or zig-zag gluing.
All system setting up is programmed via the touch-screen panel, to enhance operability.
Feature
The touch-screen panel displays all the settings, making the system easy to program―even for a beginner.
The base unit in the SM9000 series has 8 channels. You can add additional (4-channel or 8-channel) units to increase the total number of channels up to a maximum of 32.
The controller sets the operation mode of the applicator nozzles.
The controller has a built-in function that adjusts the glue pressure in response to the speed of the collator.
The controller also has a function that enables the voltage gain to be changed in the middle of operation.
The length of the glue points can be changed to any length.
The setup of the zig-zag gluing action can be changed from the conventional 2 nozzles per set to as many nozzles per set as required.
Up to 99 commonly used gluing patterns can be named (alphanumerically) and stored in memory.
The SM9000 series has a full range of maintenance-supporting functions that include counts of nozzle discharges, a function which numerically displays the extent of nozzle consumption, as well as functions that monitor the power supply, voltage and other factors in various points in the system.
Specifications
Model
SM9100
SM9300
SM9400
Application
Base unit(8channels)
Expansion unit(4 channels)
Expansion unit(4 channels)
Performance
8 applicator nozzles
(Max. 4 stations, 5 parts or fewer)
4 applicator nozzles
(For system expansion of up to 2 additional stations and 2 additional parts)
8 applicator nozzles
(For system expansion of up to 4 additional stations, 4 parts)
Line speed
From 3 to 200 m/min. (line gluing), 3 to 100 m/min. (jump-line gluing, dot gluing (there are conditions on the number of settings))
Skips
Can be set for each nozzle, with a minimum skip of 0.1 inch
Setting method
Touch panel
(on the SM9100)
(on the SM9100)
Display method
5.7-inch STN color LCD/LED
LED
LED
Ambient operating temperature
0 to +40℃
0 to +40℃
0 to +40℃
Power supply
AC100/200V 50/60Hz 1φ、0.2kVA
AC100/200V 50/60Hz 1φ、0.2kVA
AC100/200V 50/60Hz 1φ、0.2kVA
Mass
14.0kg
12.0kg
11.0kg
External dimensions
W225×H310×D376
W180×H310×D376
W180×H310×D376
Contact Us
Please use this form to submit your inquiries, feedback and/or requests to NIRECO.