PRODUCTS
Print Quality Inspection Systems

Pouch Packaging Inspection Systems

Gluing Control Systems
The system for business forms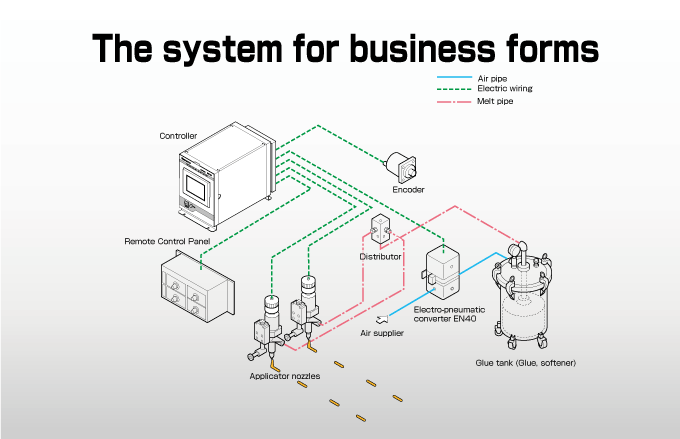 Overview
Cold gluing systems are used for gluing various kinds of business forms and are excellent for bookbinding, carton gluing sealing and other applications.
Feature
The special controller automatically controls the amount, position, and length of glue to be applied according to changes in the speed of the conveyor line and the position of the adherend, so gluing is accurate and stable, increasing production efficiency.
The system for business forms is suitable for gluing slips, continuous paper, and other business forms.
The controller receives the collator's speed signal from the encoder and activates the applicator nozzle. Instead of using a pump, the glue is supplied by a combination of an electro-pneumatic converter and a glue tank that pumps the glue under pressure. It is also equipped with an alarm contact for when the glue liquid level drops.
Contact Us
Please use this form to submit your inquiries, feedback and/or requests to NIRECO.