PRODUCTS
Print Quality Inspection Systems

Pouch Packaging Inspection Systems

Gluing Control Systems
Applicator nozzles for Cold glue system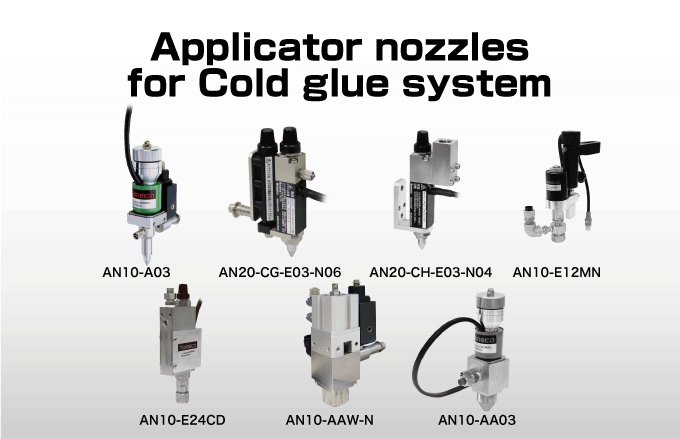 Overview
Both electromagnetic and air-driven models are available, and they provide fast, stable, and highly accurate intermittent and continuous gluing.
Featute
Applicable to glues with viscosities ranging from low to high.
A screw guider is included to allow fine adjustment of the approach to the object to be glued.
The nozzle tip diameter can be selected according to specifications.
The special structure ensures excellent glue removal.
The thickness of the melt application line can be easily adjusted by adjusting the melt pressure, changing the nozzle tip depending on the nozzle model, and using the glue volume adjustment knob.
The main part of the nozzle has been treated with a special effect to ensure a long service life.
Specification
Type
AN10-A03
AN20-CG-E03-N06
AN20-CH-E03-N04
AN10-E12MN
AN10-E24CD
AN10-AAW-N
AN10-AA03
Driving method
Electromagnetic
Air-driven
Atomizing method
Electromagnetic
Atomizing method
Drive voltage
5VDC
5VDC
12VDC
24VDC
*1
5VDC
Drive voltage
–
–
–
–
–
0.3 to 0.7MPa
–
Response
3600 times/min.
18000 times/min.
30000 times/min.
3600 times/min.
10000 times/min.
300 times/min.
300 times/min.
Glue supply pressure (max)
0.2MPa
0.5MPa
0.9MPa
0.6MPa
0.9MPa
0.2MPa
0.2MPa
Atomizing air voltage
–
–
–
–
–
0.7MPa(MAX)
0.7MPa(MAX)
Atomizing operating voltage
–
–
–
–
–
*1
Operating temperature
Normal temperature (5 to 40℃)
Coating Method
Contact type
Non-Contact type
Non-contact type (diffusion)
Purpose
BF/ Offset rotary printing
Book making/ Offset rotary printing
Carton
Atomizing
Glue Viscosity (max)
700mPa・S
1300mPa・S
1500mPa・S
500mPa・S
500mPa・S
Discharge port diameter selection
Non available
Non available
Non available
Available*2
Available*2
Non available
Non available
Discharge volume adjustment
Available
Available
Available
Non available
Available
Available
Available
*1:Select from 12VCD, 24VCD, 100VAC, and 200VAC.
*2:A variety of glue discharge diameters are available.
■About Cold Glues (Room Temperature Adhesives)
The operation and dispensing (coating) characteristics have been verified assuming the use of a water-based vinyl acetate emulsion for general paper processing (700 mPa-s at 25°C, 500 mPa-s at 25°C for AN10-AA03/AAW-N) for the nozzle (gun).
However, the operation and dispensing characteristics are not necessarily guaranteed for all adhesives, including the aforementioned adhesives, depending on the system and various conditions.
We do not select adhesives, nor do we specify (or recommend) manufacturers or adhesive models.
We are not responsible for any direct or indirect damage caused by defects in the gluing equipment or adhesives, including nozzles.
Contact Us
Please use this form to submit your inquiries, feedback and/or requests to NIRECO.