PRODUCTS
Print Quality Inspection Systems

Pouch Packaging Inspection Systems

Gluing Control Systems
Glue Monitor GM800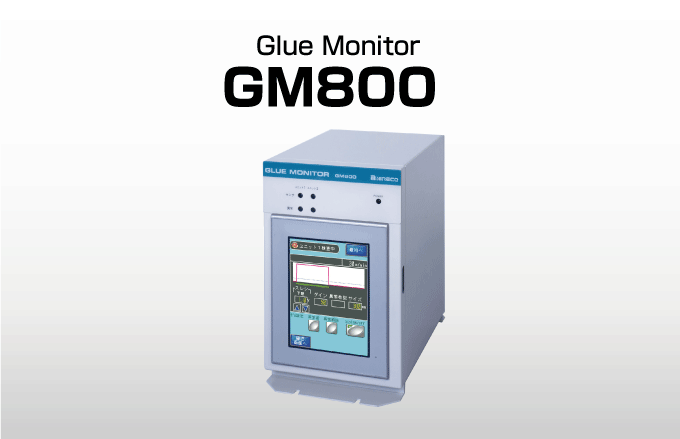 Overview
The Glue Monitor GM800 can be combined with either a glue sensor for glue nozzles or a glue sensor for glue wheels, to identify the length and position of the gluing. When the gluing length is longer or shorter than the reference dimension, or if the amount of glue applied is less than the reference value, the system displays an error and outputs a relay contact. This relay contact can be used to activate a buzzer or warning light to notify the operator or to stop the machine.
Feature
There are two types: one for glue wheels (for paperboard, corrugated cardboard, and foil/vapor-deposited paperboard) and one for envelopes. Non-contact inspection.
It is not affected by the viscosity of the glue. The standard setting is done automatically. Glue wheel glue detectors are designed to be compact.
Detects on the opposite side of the glued surface.(*The GMB30 and GMH890 detect glue on the side where it is applied.)
Specification
Line speed
10~300m/min
Encoder input
Line driver resolution 1200 P/R
Complimentary resolution 600 P/R
* The number of pulses and the circumferential length can be changed via the touch-screen panel.
Ambient operating temperature
0~50℃
Output contact capacity
Memorization failure output (relay) a contact, AC250 V 1A、DC30 V 1A
Inspection abnormality output (relay) a contact, AC250 V 1A, DC30 V 1A
Delay-exceeded output (PhotoMOS) AC200 V 0.1 A, DC24 V 0.1 A
Photo-coupler output DC24 V 40 mA (2 outputs per unit)
Power supply voltage
AC100~220V 50/60Hz(no switching required)
Power consumption
200VA
Mass
5.8kg
Contact Us
Please use this form to submit your inquiries, feedback and/or requests to NIRECO.