PRODUCTS
Print Quality Inspection Systems

Pouch Packaging Inspection Systems

Gluing Control Systems
BCON5000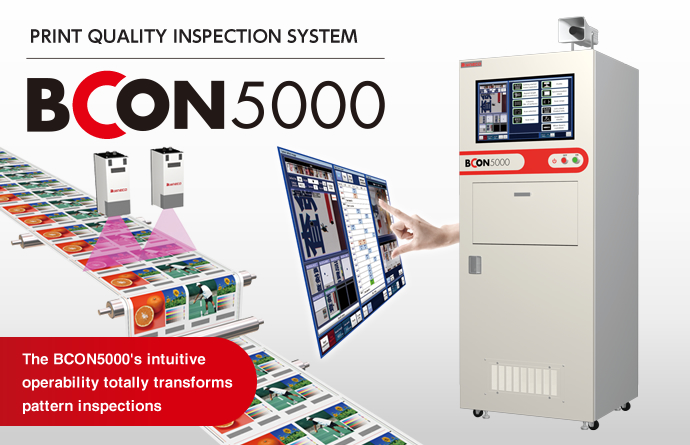 Overview
Its simple design means that anyone can easily and accurately operate it
Feature
Seven Big Steps Forward!
3-layer 4096-pixel 80 MHz cameras

Equivalent to or higher horizontal and vertical resolution compared with 3-line camera systems. Faithful color reproduction for higher detection performance

LED illumination

The higher luminance from the LEDs and the elimination of light intensity variation create an even level of lighting that enables stable detection

New image processing board

The processing performance is approximately twice the speed of the BCON3000Plus, and the latest 4096-pixel cameras can be connected together

Much more user friendly

The multiple touch-screens give the feel of operation via tablet

Classification function (labeling function)

In addition to the conventional light and shade scoring system, the area and the size of the defect can also be displayed
Not only a conventional after-image display of the defect, but also the defect's color, size and area are shown

Separate operating unit and control panel

The separate control panel means that you can install the operating unit anywhere

Wide range of optional functions

Kurohyou function (A specialized method for inspecting laminates) * Patented (Patent No. 4979114)
Register alarm monitoring function (displays the results of detected shifts in registration position, and can apply sticky labels)
Density inspection
Simplified pitch measurement
Simplified still-image function
Shift detection
Setting inspection for each area
Contact Us
Please use this form to submit your inquiries, feedback and/or requests to NIRECO.