PRODUCTS
Print Quality Inspection Systems

Pouch Packaging Inspection Systems

Gluing Control Systems
Glue monitor system GM6600/A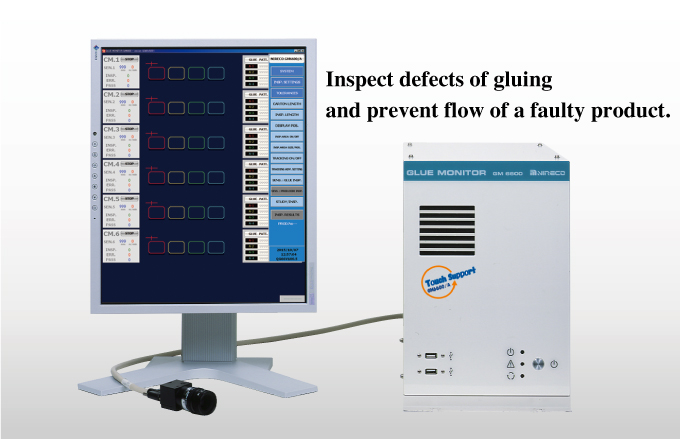 Overview
Glue monitor system GM6600/A (camera, touch monitor system)
The Glue Monitor GM6600/A uses images taken by a camera to check the length, position and other defects of gluing. If these measurements deviate from the programmed values, the GM6600 can display an image of the gluing at that moment on the monitor screen, and send an output signal to sound a buzzer and activate a warning light to notify the operator, and stop the machine.
Feature
Can monitor signals from up to 6 channels.
Applicable to both hot-melt and cold-gluing systems.
Not affected by glue viscosity or color.
The state of the gluing can be constantly observed via the monitor.
Saves an image of the gluing condition when an it defects a defect.
Has a product code discrimination function and can tell when different products have been added to the line.
The system can inspect multiple gluing patterns close together with a single camera.
The system "learns" the glue inspection pattern, no which enable to save a trouble some work.
Can check whether flaps have been properly folded or not.
Scan areas can be set in up to 4 locations per channel, to check the glue and flap conditions.
The system detects the front edge of the sheet, and scan areas follow the edge until the scan is completed.

System diagram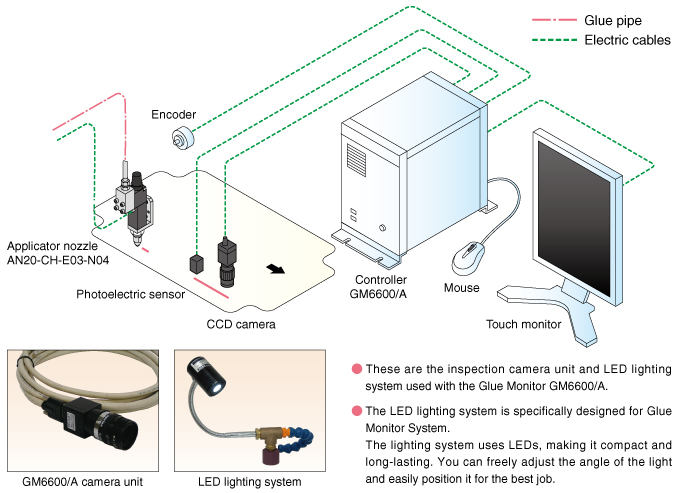 Specifications
Power supply
100 to 240 V AC, 50/60 Hz, 5 A
Input
CCD camera (1 camera / 1 ch; max. 6 cameras / 6 ch)
Photoelectric sensor (At least 1; max. 6)
Encoder: 1,200 p/rev (Resolution: 0.25 mm/p)
Output
Error contact: 125 V AC/0.5 A (for channels)
Detection length
10 to 999 mm
Maximum line speed
300 m/min. or less
Materials inspected
Paperboard, poly-laminated paper, cardboard, various kinds of printing paper
(provided that there is no printing on the side that is glued)
Mass
10 kg (excluding the monitor)
External dimensions
220 (W) x 315 (H) x 390 (D) mm
Contact Us
Please use this form to submit your inquiries, feedback and/or requests to NIRECO.