PRODUCTS
Edge Position Control Systems

Measuring Systems

Actuators

Movie
POWERPACK AJ11 / AJ21 / AJ41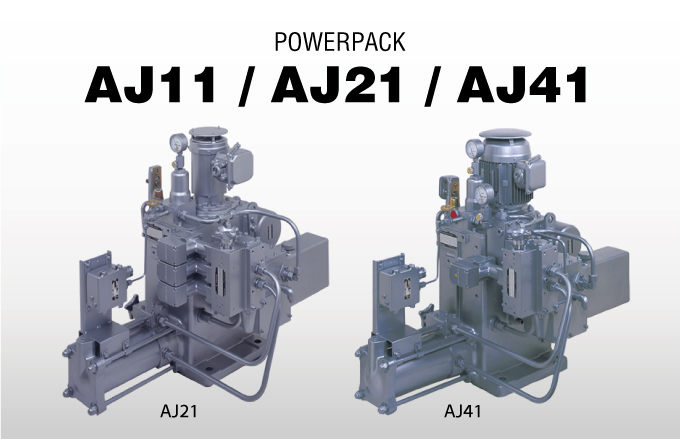 Overview
The Powerpack is an actuator that controls a load such as a valve.
As its output shaft performs rotary motions it is suitable for controlling a final control element of rotary type such as a butterfly valve.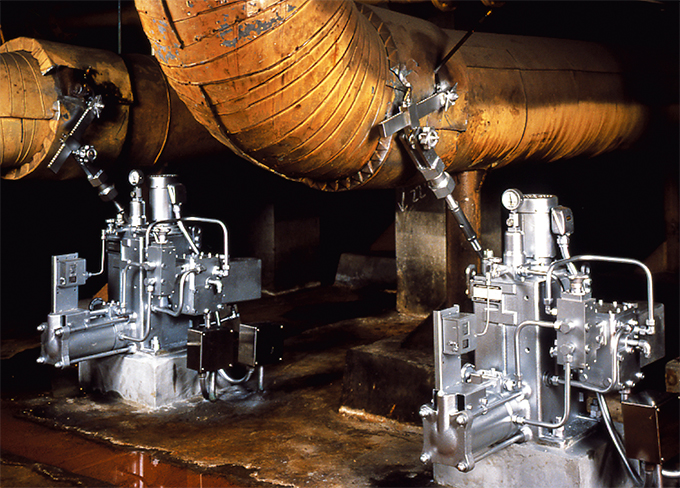 The Powerpack is a kind of an electro-hydraulic actuator.
It is of the proportional positioning type and has a hydraulic work piston that is proportional to the electrical system, with the function of converting a DC electrical signal (DC 4-20mA) into a motion of the hydraulic work piston.
The Powerpack is of a structure that unitizes the current-hydraulic pressure converter unit, the hydraulic pump and the work cylinder, and it does not require external piping.
Feature
Usable as an actuator for various electronic controllers.
The actuating speed is high and a large actuating force can be obtained because actuation is performed by using hydraulic pressure on reception of an electrical signal.
Maintenance is easy and reliability is high because of a moving coil system incorporating a hydraulic jet pipe and a stable permanent magnet.
As the casing serves as an oil tank and all parts are contained in the interior, no external piping is required.
Composition
The Powerpack consists of an electro-hydraulic converter, a hydraulic unit, a crank unit and a work cylinder. All of these components are installed in an oil tank made of cast iron.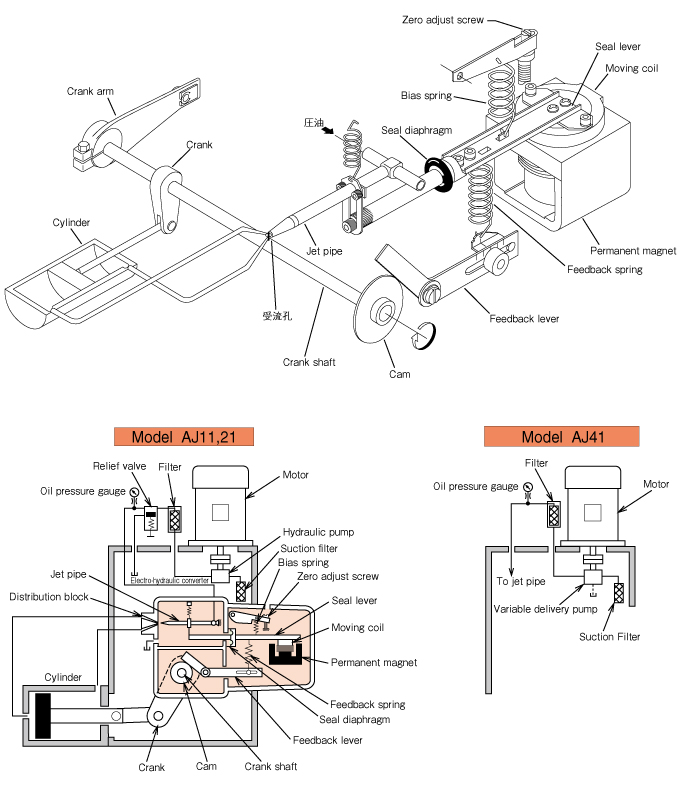 Specifications
Common Specifications
Input signal
4 – 20mA DC
Resistance of moving coil
470Ω+0Ω/-50Ω(at25˚C)
Floating band
1.50%
Linearity
±2%
Maximum crank arm rotation
60 degrees
Length of crank arm
300mm
Control action
Proportional action Operating direction
Normal: Crank arm turns counterclockwise with input signal up.
Reverse: Crank arm turns clockwise with input signal up.
Installation
Horizontal
Hydraulic oil temperature
+10 – +70˚C
Paint color
Silver
Specifications by model
Model
AJ11(50HZ)
AJ11(60HZ)
AJ21
AJ41
Motor
0.4
0.4
0.75
1.5
Max.Operating torque (kN·m)
Max: 1.42
Min: 1.02
Max: 2.15
Min: 1.23
Max: 2.15
Min: 1.53
Max: 4.12
Min: 2.95
Max.speed with no load degree (°/sec)
2.4
7
8.5
Max. operating pressure (MPa)
1
1.2
1.2
2.3
Jet pipe hydraulic pressure (MPa)
1
1.2
1.2
0.8
Diameter of jet pip (mm)
2.0
1.6
1.6
Auxiliary piston
None
width CV2
width CV2
Cylinder dia.x stroke (mm)
Ø125×150
Ø125×150
Ø125×150
Hystresis error (no load) (%)
1
1
1
Overshooting (no load ) (%)
1
1
1
Amount of oil required (ℓ)
27(w/ACC:34)
27(w/ACC:34)
27(w/ACC:34)
Hydraulic pump type
Fixed
Variable
Rotating direction of motor
Revers
Normal
Ambient temperature(°C)
-20~+55
-20~+55
-20~+60
Mass. (including hydraulic oil) (kg)
175
180
195
Contact Us
Please use this form to submit your inquiries, feedback and/or requests to NIRECO.