PRODUCTS
Edge Position Control Systems

Measuring Systems

Actuators

Movie
Modular Strip Guide system controller MGC1000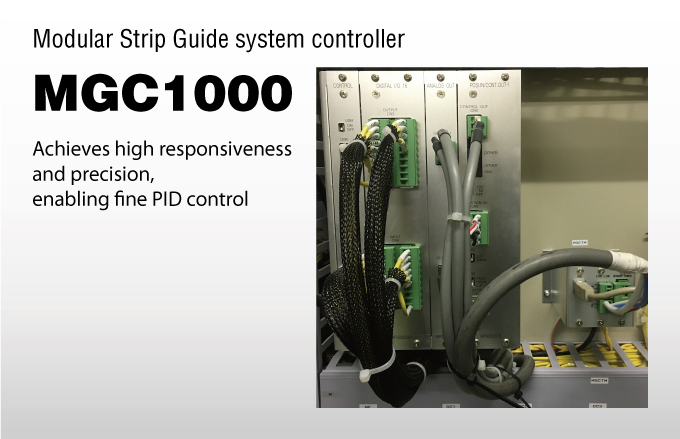 Overview
The Modular Strip Guide system controller MGC1000 is an EPC/CPC controller that can be connected by communications cables to the other devices in the system to enable a flexible system configuration.
Feature
The boards that comprise the controller are available as modules for each function. By connecting these modules via communications cables, you can configure the optimal system for your needs. This modular architecture enables boards to easily be changed in case of emergencies. It also allows the functions of the system to be easily upgraded as specifications change.
The system can be externally commanded to switch between control of a maximum of EPC 1 to 8, CPC 1 to 4, Cascade EPC 1 to 4, Cascade CPC 1 to 2.
The system can simultaneously actuate two hydraulic cylinders for CPC. (In-furnace CPC)
Control via P, I, PI, PD or PID controllers is possible.
The system can use either a nonlinear output in which deviations cause the output gain to change, or a speed gain output function in which the speed of the line changes the output gain.
By inputting the PLG signal, the staggered roll function and tracking output function can be used. (Can be used in combination)
The system can be externally commanded to shift the control position or the centering position. (The centering position cannot be changed (shifted) during cascade control.)
The sleeve alignment function can be used. (It cannot be used during cascade control.)
PROFIBUS and other Fieldbus interfaces are supported.
Input/output locations for the interface signals, including the analog signals and the Fieldbus communication signals, can be set by parameter input.
One controller can control up to four steerings.
Data logging can be performed. (Optional)
Specifications
Power supply voltage
DC24V
Power consumption
Listed on each circuit board
Ambient temperature range
0 to +40°C
Ambient humidity range
35% to 85% RH or less (with no condensation)
Inputs and outputs
From the specifications of the circuit boards (Options are shown inside the brackets.)


Control boards: RS232C, RS422
(Fieldbus circuit board: PROFIBUS)
(PLG input board: open collector, voltage, line driver)
Digital I/O board: photo-coupler inputs 16, contact outputs 16
Control output / Position input board 1: control output, solenoid valve actuation output, position transmitter input, filter blockage warning contact input (1 input)
Control output / Position input board 2: control output, position transmitter input
Analog output board: voltage output 2
Analog input/output board: input 1, output 1 (isolator input/output)
CAN board: CAN port 1, RS232C port 1
Analog sensor input board: sensor inputs 4, sensor alarm contact inputs 8
Contact Us
Please use this form to submit your inquiries, feedback and/or requests to NIRECO.