PRODUCTS
Edge Position Control Systems

Measuring Systems

Actuators

Movie
Strip Guide Amplifier SGA3000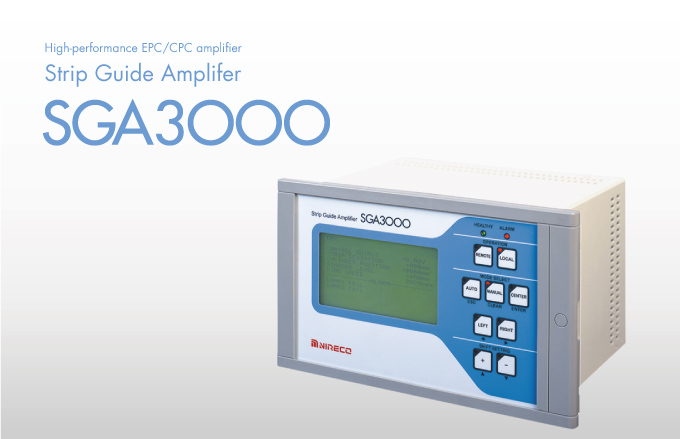 Overview
High-performance EPC/CPC amplifier
The Strip Guide Amplifier is a high-performance, microprocessor-equipped EPC/CPC amplifier.
It offers advanced EPC/CPC controls such as stagger winding and cascading which are unavailable from conventional analog amplifiers. Also, this product is one-ninth the volume and one-fourth the weight of previous products. Finding the installation space is no longer an issue.
Feature
The LCD screen makes it easy to check setting values and output signal status.
All operations use the push buttons on the control panel for parameter settings.
Control is possible by P, I or PI action.
A line speed signal input enables automatic adjustment of control gain to compensate for changes in line speed. PLG signal input enables stagger winding.
Sensor signals can be taken from up to two sensor systems, enabling cascading control operation.
OPTION : The SGA3000 stores control signals and output values in its ring buffer, which helps solve problems quicker.
Configuration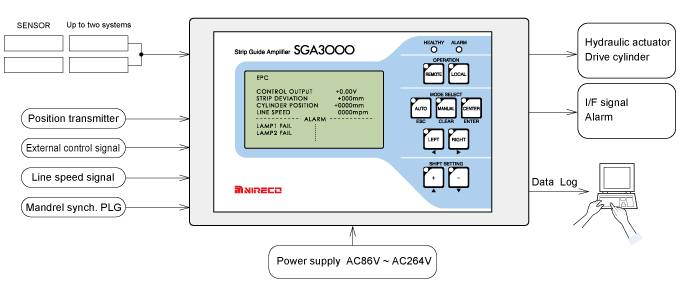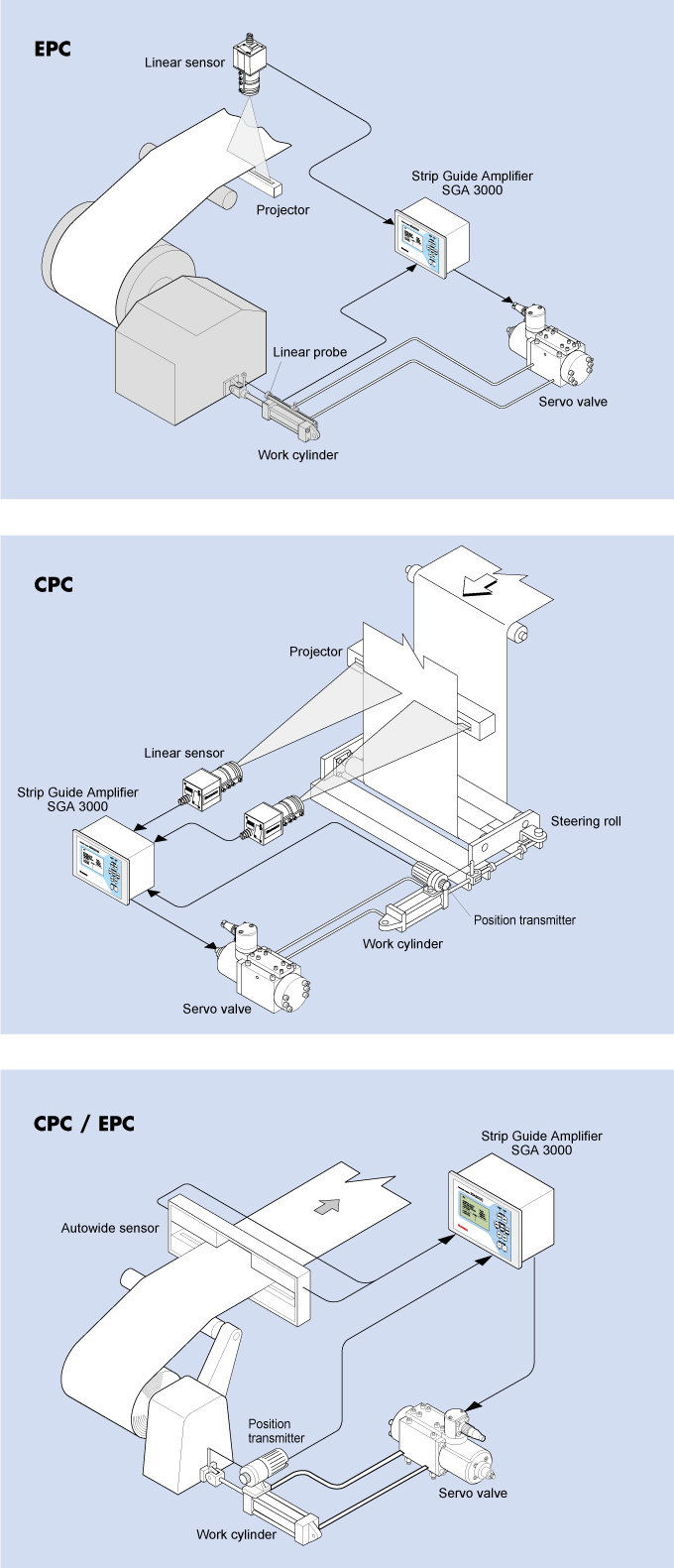 Specifications
Connected sensor
Capacitance Autowide, Linear sensor, LED-type Autowide
No. of optical sensors
Two system
Display
LCD display (related for five years of continuous lighting)
Operation
Push buttons on the control panel (common buttons for parameter setting and mode setting)
Input signals
Sensor signal, voltage, current, PSD
Position transmitter signal 0~2 kW, linear probe signal 4~20mADC
Line speed ±10VDC or 4~20mADC
PLG signal Photo coupler input 24VDC/7mA, 10kHz (max)
Control output
±250mA (loadΩ)
Analog output
Shift volume ± 5VDC(load at least 1kW )
Cylinder position ± 5VDC (load at least 1kW )
Strip deviation ± 5VDC (load at least 1kW )
Warnings
System healthy, lamp failure, roll out, no strip, large deviation, oil pressure low, oil temperature high, oil level low, open collector output 24VDC/100mA (max)
Other Power supply
Data storage function (RS-232C connection)
AC85V~AC264V 50/60 Hz
Power consumption
100VA
Operating temperature range
0~+40℃0 to 40℃
Weight
5kg
Contact Us
Please use this form to submit your inquiries, feedback and/or requests to NIRECO.