PRODUCTS
Edge Position Control Systems

Measuring Systems

Actuators

Movie
Strip Width Gauge WGL1000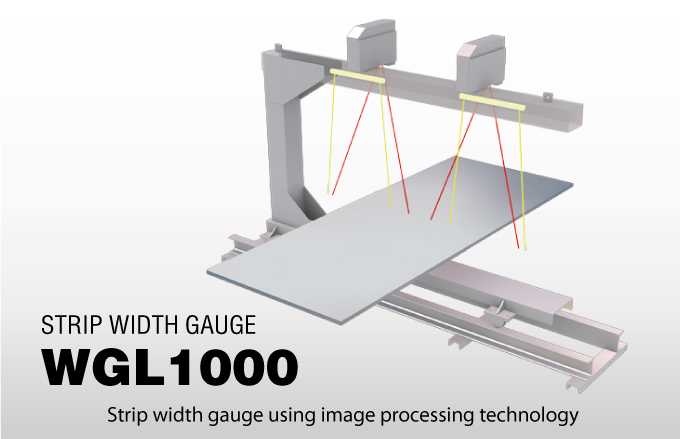 Feature
2 Light Source Image Management
Reduce variation (error) due to changes in strip pass line
Sensor unit for detection with self-check function
Installation above the strip
Flexible installation (all installation above strip)
Easy maintenance due to accessibility
Reduce adhesion of dirt in LED and sensor unit
Measurement Principle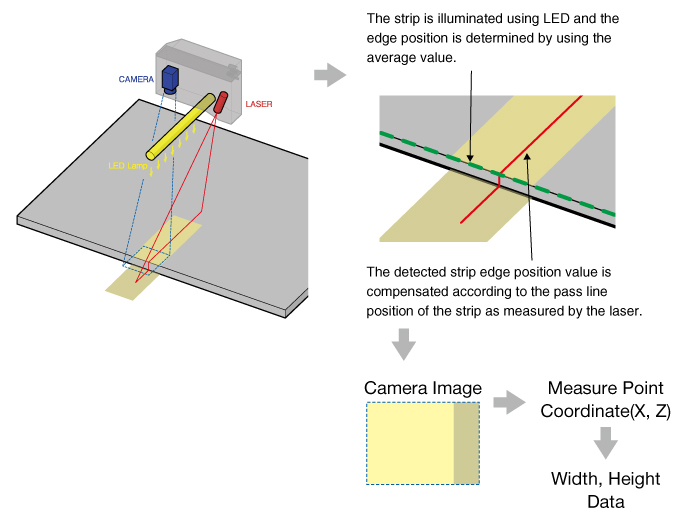 Equipment Configuration
The system consists of LED light source for illumination, Sensor unit for detection of the strip and a specialize control panel with image processing unit for data analysis and I/O management. The sensor unit is connected to the specialize control panel using general purpose device net cable and LAN cable.
The system uses the laser triangulation method wherein it uses a capture camera image of projected line laser to detect the edge position and surface profile of the strip. This data is then translated into spatial axis (X,Z) using predetermined parameters. The measurement data for strip width and deviation can then be outputted to a level 2 computer.
Specifications
Sensor Unit
Measurement Range
Passline direction: ±30mm
Lateral direction: 800mm(standard)
Measurement Accuracy
±0.4mm
Applicable Material
Metal strip, others
Laser Light Source
Type: Semiconductor laser
Wave length: 660nm
Output: 30mW and below
Laser Class: 3R
LED Light Source
Output Rating: 40W
Cable length
100m and below
Operating Environment
Temp. Range: 0-40℃
Protection Class: IP54
Approx. Weight
11kg
Size
H315 x W120 x D370
Control Panel
Image Processing Unit
NIPU1000
Measurement Cycle
10ms
No. of Sensor unit that can be connected
2(standard) Max 4
Touch Panel Display
Display range: 0-9999.9mm
Size: 10.5inch
External I/F
Strip Width Output: Ether-net, Analog
Strip Deviation Output: Ether-net, Analog
Edge Height Output: Ether-net
I/O Contact: PiO
Utility
Power Supply: AC100-440V
Current Rating: 1.5kVA
Operating Environment
Temp. Range: 0-40℃
Protection Class: IP54
Approx. Weight
250kg
Size
H1800 x W100 x D675
Contact Us
Please use this form to submit your inquiries, feedback and/or requests to NIRECO.