PRODUCTS
Edge Position Control Systems(Sensors)

Edge Position Control Systems(Electric type)

Edge Position Control Systems(Hydraulic type)

EPC related components

Tension Control Systems

Automaic Register Control Systems

Print-to-cut Register Control Systems

Other Related Equipment
Liteguide Controller AE550/AE560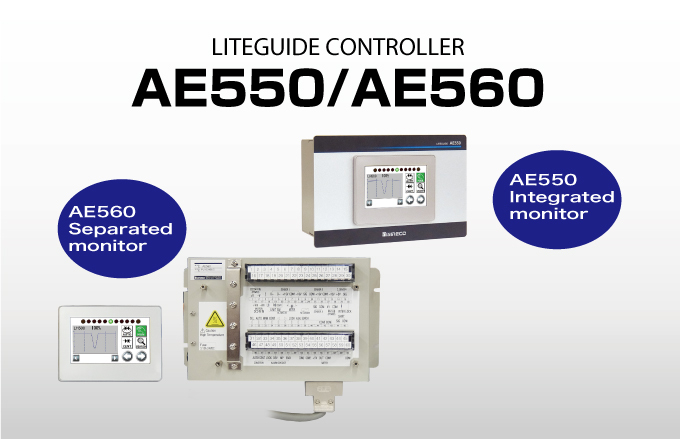 Overview
Compact, with a full range of functions!
Separated monitor version available!
The display unit and the operating unit feature a color touch-screen panel, for enhanced visibility and ease of use. In addition, increasing the input circuits enables CPC control and increases the choice of sensor options.
Basic Configuration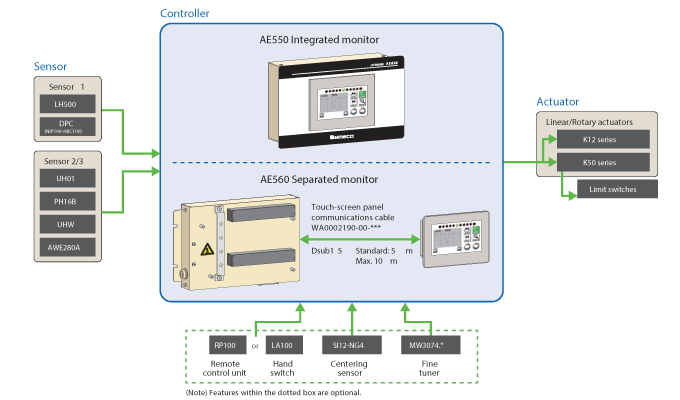 Specification
Power supply voltage
+24 V DC (4A) (peak response considered to be 6 A and approx. 50 msec.)
・When NIC100 + NIP100 used: +24 V DC, 6 A or greater
(When the controller power supply and the motor power supply are the same)
* If these power supplies are different, please use the following capacities.
Controller power supply: +24 V DC, 1 A
Motor power supply: +24 V DC (3 A) (peak response considered to be 6 A and approx. 50 msec.)
Power supply fuse: 3.15 A, 24 V DC (time-lag type)
Mass
AE550: 1.8 kg
AE560 main unit: 1.7 kg, monitor: 0.22 kg
Environment

Ambient operating temperature…0 to +50°C
Ambient operating humidity…35 to 85% RH or lower (no condensation)

Vibration resistance…3.5 mm, 1G, 3 to 150 Hz, movement in 3 directions (1 hour)

Power supply noise…2.5 kVp-p, normal mode, common mode, 50 ns, 1 μs pulse width

Operating atmosphere…Locations free of water drops, flammable gases, corrosive gases, and with little dust
* Same conventional functions as the AE500, AE120 and AE122.
Contact Us
Please use this form to submit your inquiries, feedback and/or requests to NIRECO.