PRODUCTS
Edge Position Control Systems(Sensors)

Edge Position Control Systems(Electric type)

Edge Position Control Systems(Hydraulic type)

EPC related components

Tension Control Systems

Automaic Register Control Systems

Print-to-cut Register Control Systems

Other Related Equipment
Liteguide Controller AE1000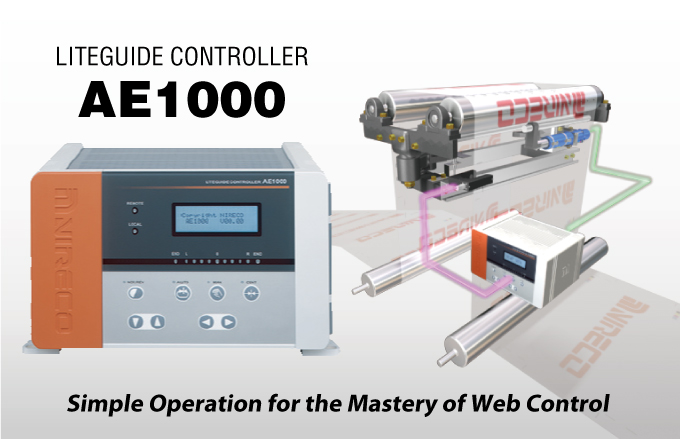 Overview
The Liteguide Controller AE1000 carries out EPC (Edge Position Control) through a combination of Photoheads (PH16B) and Ultrasonic Sensor (UH01), CPC (Center Position Control) through a combination of Photoheads and Autowide Sensor (AWE280 etc.) and LFC (Line Follower Control) through a combination of LH19 and LH110.
Feature
Liteguide Controller AE1000 is the successor to the previously well established AE900E and AE900L controllers.
This single type can be connected to Nireco standard sensors which has been used with the AE900E or AE900L controller.
(Some sensors may need to be used with a preamp)
Can be used directly coupled with electrical actuators K12 and K61. Can also be connected to the K80 series through use of a driver.
Has 2 systems, a sensor input stage and a shift input stage, which can be switched for use.
Uses a larger LCD display than previous models with a white backlight making it both easier to see and allowing for verification of a greater amount of information.
Configuration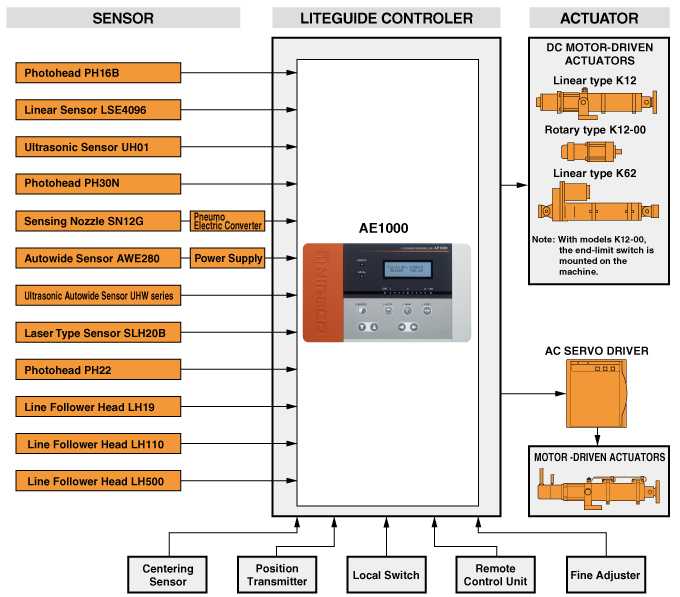 Specification
Power Supply Voltage
AC100 to 240V 50/60Hz ±10%
Power Consumption
300 VA (inrush current 100 A 10 ms typical (200 V))
Power Fuse
250V AC, 3.15 A (time-lag type)
Ambient Operating
Temperature
0 to 50°C
Ambient Operating
Humidity
35 to 85% RH or lower (no condensation)
Vibration Resistance
3.5 mm, 1 G, 3 to 150 Hz, three-directions (1hour)
Power supply Noise
2.5 kVp-p, normal mode, common mode 50 ns, 1μs width
Usage atmosphere:
Area with no water, flammable or corrosive gases, and little dust.
Mass
Approximately 5 kg
IP Class
IP30
Input
2 Sensor systems
Voltage input Maximum ±5V(No input resistance)
Current input 0-20mA (input resistance converted to 240/2kΩ)
2 analog shift systems
Voltage input Maximum ±10V
Centering
Proximity switch input (0-8V, 1.2kΩ input resistance)(Applies to: KL1632. 0-90P)
Position Transmitter
Voltage input Maximum ±10V
Photo coupler input
(12V DC, 15mA)
Remote controller :

Operation mode switching (auto / manual / centering)
Operation keys (left / right / auto balance / reverse)
System selection (EPC1 / EPC2)
Locks 3 points

Actuator end limit :
Output
Electrical actuator
K12 ±24V DC, 1A(maximum) or K62 ±36V DC, 2A(maximum)
Lamp power source
4 to 12V DC, variable (maximum 1A)
Fine tuner,
Position transmitter,
LH8B
±5V power source (maximum 0.1A)
Sensors
±15V power source (+15V, 1A; -15V, 0.2A)
(Note: The current capacity on the + side combined with the lamp power source in(2) is less than 1A.)
Centering proximity
switch power source
8V DC (maximum 30mA)
2 indicator systems
Voltage output Maximum ±10V (load resistance 2kΩ or greater)
Deviation output
Position transmitter output
Photo coupler output
(24V DC, 40mA)
Remote controller :

Operation mode state (auto / manual / centering)
System state (EPC1 / EPC2)
Alarms Excessive deviation

End limit
Actuator lock
Actuator excessive load
Contact Us
Please use this form to submit your inquiries, feedback and/or requests to NIRECO.