PRODUCTS
Edge Position Control Systems(Sensors)

Edge Position Control Systems(Electric type)

Edge Position Control Systems(Hydraulic type)

EPC related components

Tension Control Systems

Automaic Register Control Systems

Print-to-cut Register Control Systems

Other Related Equipment
Open loop Tension Control System TCD030T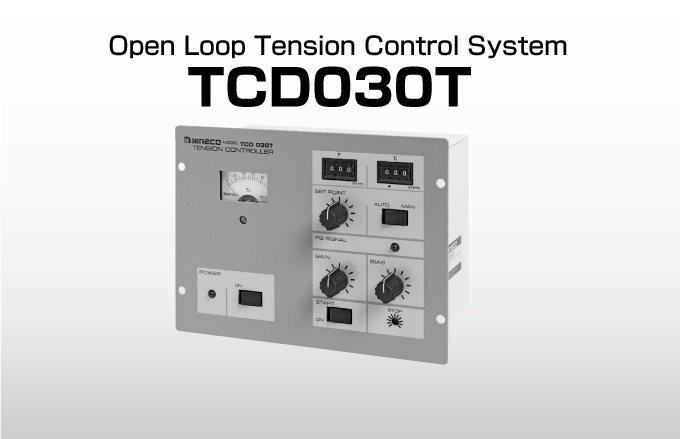 Overview
The TCD030T is a controller for controlling the tension of a web at the unwinder or winder, without using a tension sensor. The roll diameter is calculated by using a signal from a gate generator mounted on the winding/unwinding reel, and a control signal corresponding to the change in the roll diameter is delivered.
Feature
Non-contact detection of roll diameter

The roll diameter is detected without any contact being made using a gate generator attached to a winding/unwinding reel. Therefore, the material is not exposed to damage.

Easy to operate

It is operated just by setting the roll radius and the web thickness.

Stop output circuit incorporated

A stop output signal is generated when stopping an unwinder. The reel is stopped without slackening the web.

Applicable to various brakes/clutches

It is available with voltages of 0 to 10V and currents of 4 to 20 mA for control outputs. Combined with a converter, it can control an electromagnetic brake/clutch or an air brake/clutch.

Applicable to very thin webs as well as to very thick webs

The web is available in thicknesses of 1 µm to 9.99 mm.
Specifications
Radius setting
Radius: 1 to 999 mm (internal setting)
Thickness settings
0.01 to 9.99 mm or 1 to 999 μm
Control output
0 to 10V (5 mA) and 4 to 20mA DC
Gate generator input
"0": 0 to 1 V or less (10 mA)
"1" : 10 to 12 V
12 V system rectangular wave; one pulse per
revolution of a winding/unwinding reel
Contact input
Start signal and stop signal
Contact switching capacity: 15 V DC,
30 mA or more.
Power supply
100/110/200/220 V AC ±10%, 50/60Hz
Power consumption
5VA
Ambient temperature
0 to +50℃
Weight
1.7kg
Contact Us
Please use this form to submit your inquiries, feedback and/or requests to NIRECO.