PRODUCTS
Edge Position Control Systems(Sensors)

Edge Position Control Systems(Electric type)

Edge Position Control Systems(Hydraulic type)

EPC related components

Tension Control Systems

Automaic Register Control Systems

Print-to-cut Register Control Systems

Other Related Equipment
Sensing Nozzle SN12G / SN15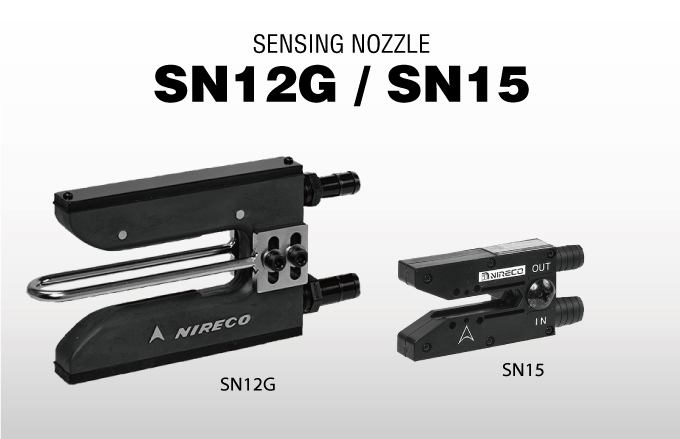 Overview
The Sensing Nozzle pneumatically and continuously detects the displacement of a web edge without contacting the web. The air pressure for detection is sent to the diaphragm detecting element of the hydraulic controller or the pneumoelectric transducer.
The Sensing Nozzle (SN12) is designed for light industries such as paper, film and textiles. Low-pressure air is blown onto the web edge, therefore, blowing problems may be expected if web material is gauze or the tension is weak. In such a case, a guide bar is used to maintain a constant path line for the web. This sensing nozzle delivers the same performance as the SN15, in a smaller and more lightweight package. Use it in cramped areas where an SN15 won't fit.
Specifications
MODEL
SN15
SN12G
Sensor gap
10mm
30mm
Detecting length
10mm
Response speed
30ms
Resolution
0.1mm
Air consumption (supply pressure)
45L/min (4kPa)
Ambient operating temperature
-20 to +60°C
Mass
0.4kg
1kg
Accessories
2 × 3 vinyl hoses(with 6 hose bands)
Body material
Conductive plastic
Die-cast aluminum alloy
Contact Us
Please use this form to submit your inquiries, feedback and/or requests to NIRECO.