PRODUCTS
Edge Position Control Systems(Sensors)

Edge Position Control Systems(Electric type)

Edge Position Control Systems(Hydraulic type)

EPC related components

Tension Control Systems

Automaic Register Control Systems

Print-to-cut Register Control Systems

Other Related Equipment
Tension Meter TM310T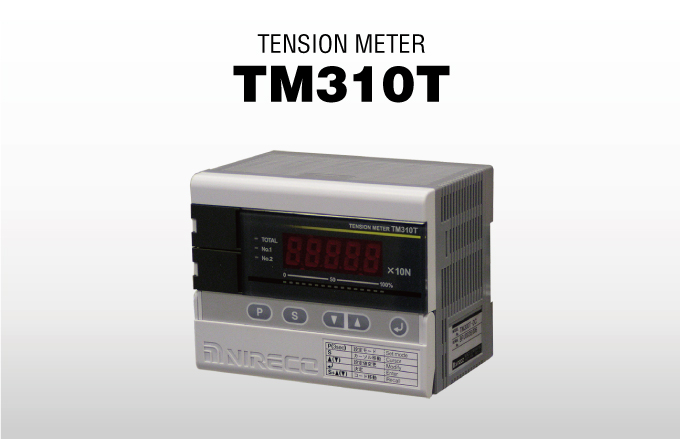 Overview
Easy tension settings that can be used immediately
Operation status can be known in real timedue to additional communication function
Tension meter TM310T is a compatible with Nireco's entire line-up of tension sensors (MB, MG, MC, CD, MJ, CJ, TSA, Intrinsically safe TSA) and displays their tension readings.
The display range is from 0 to 10 kN (1,000 x 10 N). The tension signal output (0 to 10 V (0 to 5 V), or 4 to 20 mA) can be output to a sequencer, indicator, recorder or other device.
The Tension Meter TM310T quantitatively measures the tension of a running web in manufacturing and processing lines of webs such as film, textile and rubber.
Nireco tension sensors that have good accuracy and responsiveness are used. These sensors electronically measure the tiny changes that vary in proportion to the web tension. The TM310T tension meter then adds and amplifies the sensor signals and indicates the tension.
Feature
Enhanced operability through digital processing

When initializing, various parameters can be set via a dialogue system.

Auto-zero control function

Zeroing the sensor can be done at the touch of a button.

Correction functions

Auto-zero, auto-span and other adjustment functions can easily be made.

Communications function

The TM310T's communication function (RS-485) enables connection to a PC to allow remote monitoring.
Specification
Power source voltage
TM310T‐DC : DC24V
TM310T‐AC : AC100 : 240V 50/60Hz
Power consumption
25VA
Ambient temperature operating range
0 to +50℃
Ambient humidity
80% or less (no condensation)
Sensor power supply
+6V、±15V
Input
2 inputs: Any Nireco sensor from the MB, MG, MC, CD, T0, MJ , CJ , TSA series
Output
Voltage output:
4 outputs: for control, for recording (No. 1, No. 2, Total)
Current outputs:
2 outputs.. for control (4 to 20 mA) and for an indicator (1 mA)
Warning output
2 tension upper limits or left and right tension comparisons, lower limit warning outputs
Telecommunications function
RS485 (2 line half duplex, 9600 bps independent protocol)
Installation
Attached to the DIN rail
External dimensions
(W)110×(H)90×(D)70.5
Mass
1.2kg
Contact Us
Please use this form to submit your inquiries, feedback and/or requests to NIRECO.