PRODUCTS
Edge Position Control Systems(Sensors)

Edge Position Control Systems(Electric type)

Edge Position Control Systems(Hydraulic type)

EPC related components

Tension Control Systems

Automaic Register Control Systems

Print-to-cut Register Control Systems

Other Related Equipment
Paper sheet splice detector JC100N/JD101N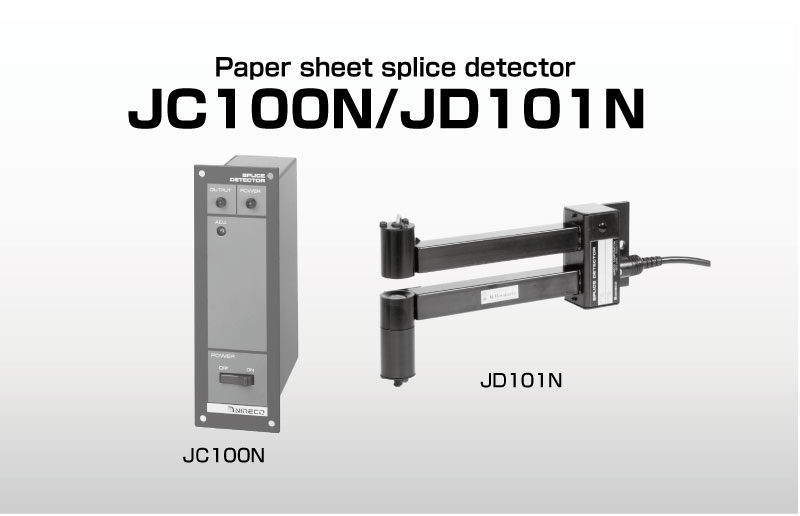 Overview
Detects the paper splicing position of the base paper prior to printing in the printing process and signals the presence of paper splicing.
It detects the paper splicing position and automatically calibrates the controller internally to detect the new paper meshing, even if the type or thickness of the new paper changes after splicing.
Feature
Even if the paper thickness changes, the detection judgment standard changes automatically, so it can be used without adjustment.
Since it is detected by changes in the amount of light transmitted, it is stable against vertical fluctuations in the pass line.
The lamp brightness is lowered by the ingenuity of the electric circuit, so the lamp life is greatly extended.
It is highly stable against disturbances such as power supply noise.
Specification
Power supply
AC100/110、200/220V、50/60Hz
Output contact
Open/close capacity AC200V 2A
Contact ON time: Approx. 3 seconds
Detection paper thickness
0.05~0.2mm
Cable length
4m (Standard)
Contact Us
Please use this form to submit your inquiries, feedback and/or requests to NIRECO.