PRODUCTS
Edge Position Control Systems(Sensors)

Edge Position Control Systems(Electric type)

Edge Position Control Systems(Hydraulic type)

EPC related components

Tension Control Systems

Automaic Register Control Systems

Print-to-cut Register Control Systems

Other Related Equipment
Newspaper Rotary Press Automatic Register Control System CALGRAPH Smart N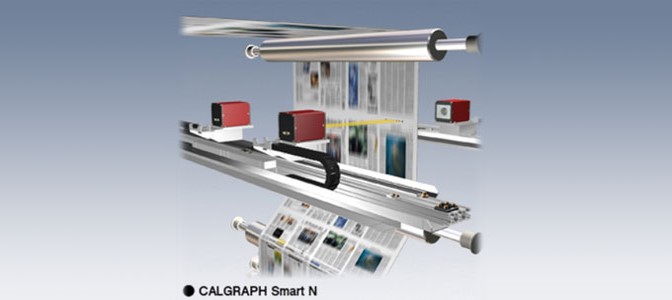 Overview
A Sure Eye to Catch Any Misalignment
The CALGRAPH Smart N is a newspaper rotary press automatic register control system that utilizes image analysis technology. The system uses cameras with LED strobes to pick out the register marks, it analyzes what it sees, then adjusts the printing register up or down, left or right, with a high degree of precision. The CALGRAPH Smart N rapidly corrects any misalignment, minimizing registration time.
Feature
Automatic recognition of register marks

The system automatically recognizes register marks within images of the running web.

One controller per camera – as a standard feature

A simple arrangement of an independent controller for each printing direction, to enhance manageability.

Compact

The control panel unit is compact, with an LCD touch screen monitor. Since the control panel unit and the control cabinet are separate, you can select the locations to install them.

Accurate correction calculations based on tiny register marks

The CALGRAPH Smart N can perform registration using the register marks of the previous model (9000N). The system is largely unaffected by web fluttering. It makes accurate correction computations and performs rapid registration.

Optional functions

 

Still images of the captured register marks can be viewed on a separate monitor. 
By connecting the system to a PC, web deviation data can be compiled and statistical data obtained during printing. 
Control of a customer's system via the serial communication of correction signals is possible.
Components
System diagram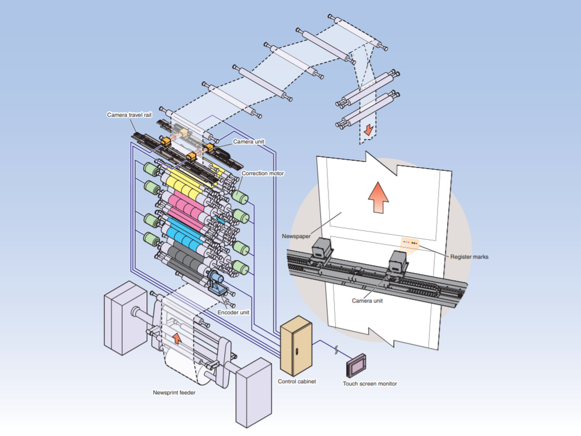 System components

Control panel
Features an LCD touch screen panel.
Sends commands to each controller (for each printing direction) and displays information. Can be moved to a suitable location on the operations desk.

Camera units and camera drives
Each camera unit has an LED strobe and a CCD camera. The images captured by a camera are processed by a dedicated controller and used to detect registration marks.

Control cabinet
This is the heart of the detection and control system, and houses the controllers. Since each controller operates independently, the system can simultaneously control all printing surfaces.

Encoder unit
An encoder is installed where it rotates at a 1:1 relationship with the printing plate. An encoder unit and its printing cylinder must always be in phase together.
Contact Us
Please use this form to submit your inquiries, feedback and/or requests to NIRECO.