PRODUCTS
Edge Position Control Systems(Sensors)

Edge Position Control Systems(Electric type)

Edge Position Control Systems(Hydraulic type)

EPC related components

Tension Control Systems

Automaic Register Control Systems

Print-to-cut Register Control Systems

Other Related Equipment
Ultrasonic Autowide Sensor UHW280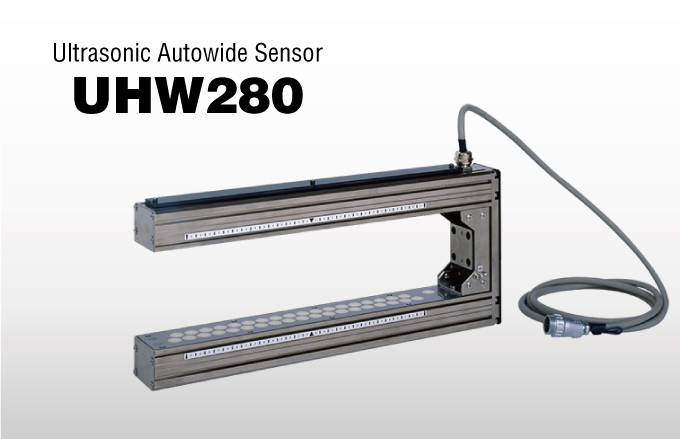 Overview
Consistently detects changes in the edge position of transparent/thin/reflective webs – over a wide field of view.
The ultrasonic Autowide sensor is able to detect — over a wide field of view — the edge of webs that are transparent or are thin films or have other qualities that make them difficult to be detected by optical sensors.
Not only is the ultrasonic Autowide sensor UHW280 resistant to changes in ambient temperature and humidity, this sensor for the detection of meandering web edges has outstanding features, including a function that automatically corrects the level of ultrasonic transmission when the thickness of the detected web changes.
The ultrasonic Autowide sensor UHW280 is a meandering web edge detector that saves time and labor, and is easy to use.
Feature
Even if the detected material changes, the automatic thickness compensation function enables optimal detection
An effective detection field of view of 280 mm
An automatic correction function which minimizes the influence of changes in ambient temperature and humidity
Can detect the edges of thin transparent films (3 μm or greater) over a wide field of view
Specification
Power supply
15V DC (12 to 18V)
Power consumption
2.0W
Detection field of view
280mm
Detection output
0 to 5 V or 4 to 20 mA, digital communications network CircLink (by SMSC)
Linearity
Within ± 0.2 mm
Ultrasonic emission frequency
223kHz
Frequency response
50Hz
Thickness and types of detectable webs
Plastic film, paper, metal, etc. that has a thickness of 3 μm or greater
(can not detect non-woven fabric)
Ambient temperature during operation
0 to 50℃
Ambient humidity during operation
35 to 85% RH (no condensation)
Mass
3.5 kg (Detector: 3.0 kg; 2-meter cable: 0.5 kg)
Contact Us
Please use this form to submit your inquiries, feedback and/or requests to NIRECO.