PRODUCTS
Edge Position Control Systems(Sensors)

Edge Position Control Systems(Electric type)

Edge Position Control Systems(Hydraulic type)

EPC related components

Tension Control Systems

Automaic Register Control Systems

Print-to-cut Register Control Systems

Other Related Equipment
MG Tension Sensor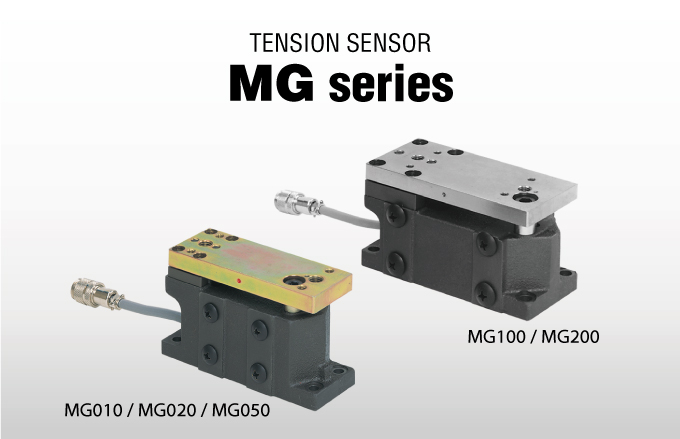 Overview
The MG Tension Sensor was designed to be used with a tension controller or tension meter. It features compact and rigid construction, high accuracy, reduced temperature drift and high response.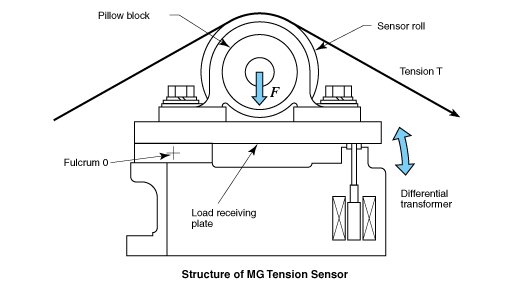 Feature
With excellent temperature characteristics, the compact size saves space as well.
Additionally, non-contact detection using a differential transformer yields improved precision.
Specifications
Model
MG010
MG020
MG050
MG100
MG200
Rated tension (N)
100
200
500
1000
2000
Roll displacement (μm=N)
2.63
1.23
0.48
0.20
0.11
Allowable roll weight (kg)
10
20
50
100
200
Allowable overload (N)
Ten times rated load
Unit weight (kg)
1.5
2.6
Tension resultant direction
Forward or reverse possible
Mounting angle
Any desired angle
Supply voltage
DC+6V
Ambient temperature
-10 to +60℃
Applicable bearings
UCP201 to 204
* UCP205 may also be employed when optional pillow-mounting
UCP201 to 204
pillow-employed when optional pillowmounting brackets (MD0178.0-12P) are used.
Note:
Figures for rated tension and allowable roll weight are for double-sided detection. For single detection the above figures should be halved.
A 5m cable with connectors for connection to an amplifier is supplied.
Download Tension Sensor Model Selection Software
Contact Us
Please use this form to submit your inquiries, feedback and/or requests to NIRECO.