PRODUCTS
Edge Position Control Systems(Sensors)

Edge Position Control Systems(Electric type)

Edge Position Control Systems(Hydraulic type)

EPC related components

Tension Control Systems

Automaic Register Control Systems

Print-to-cut Register Control Systems

Other Related Equipment
Tension Controller TC680A/D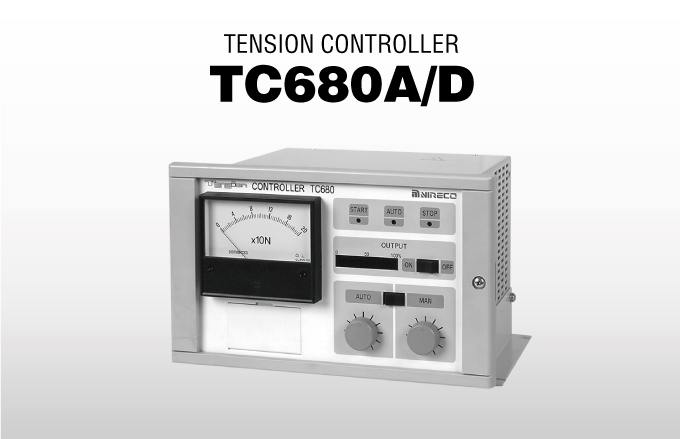 Overview
This analog tension controller was designed for easy-to-use, safe control and ease of operation. This intuitive controller, with its simple functionality, is easy for anyone to use.
Feature
Excellent Responsiveness via Constant Loop Gain Circuit

The control circuit uses Proportional + Integral calculation, providing fast response and high accuracy. Additionally indexed calculation is used to maintain a constant loop gain, regardless of changes in diameter. This maintains high responsiveness without hunting, maintaining appropriate loop gain at all times.

Easy to Use and Operate

The unit can be controlled automatically as long as you have an automatic machine contact. Consequently, the controller is easy for anyone to use, as long as a tension value is set. When stopped, a sequence allows the stopped output value corresponding to the diameter to be obtained.

Tension Display

It is possible to find the total tension, as well as the tension on just one side. Select an analog or digital display to suit your preferences.

Wide Range of Applications

Fits the final control elements of a large number of applications, including air brakes/clutches, air motors, electro-magnetic brakes/clutches, torque motors, and magnetic coupling motors. Select the installation method to suit the location, from panel-mounted, stand-alone, or mounted.

Connection with a wide range of tension sensors

Can be connected to the following wide range of Nireco sensors: MB, MG, MC, CD, MJ, CJ, TSA, and intrinsically safe TSA sensors

CE Compliant

CE marking compliant product
Specifications
Power voltage
AC100 to 240V 50/60Hz
Power consumption
320VA (Rush current 60A (200V))
Over voltage category
Ⅱ
Current capacity
1.6A(200V)
Mass
5kg
Environment
Ambient temp.
0 to +50℃
Ambient hum.
35 to 85% RH or less (no condensation)
Vibration
3.5 mm, 1G, 3 to 150 Hz, 3 directions (1 hour)
Power noise
2,000 Vp-p, normal mode, common mode 50 nS, 1 uS
Atmosphere
No liquid water or flammable or corrosive gas, with low dust levels
Air pollution degree
2
Rated tension
50, 100, 200, 500, 1000, 2000, 3000, 5000, 10000 N (The scale of the rated tension display is changed to show the various tensions.)
Connectable Tension Sensors
MB/MG tension sensor or
MC/CD/MJ/CJ/TSA/Intrinsically safe TSA tension sensor
Output
Control Output
0 to 10V (max.5mA), 4 to 20mA
0 to 24V (max.4A)
Display Output
0 to 10V (max.1mA), 0 to 1mA
Recorder Output
0 to 10V (max.1mA)
External Tension Setting Power
10V (max.5mA)
Contact Output
No. outputs: 1 (30 V DC; 0.2A)
Zero tension
Input
Sensor Input
Shared pins
MB/MG/Intrinsically safe TSA tension sensor(connect to pins 1 to 4 & 17 to 20)
MC/CD/MJ/CJ/TSA tension sensor(connect to pins 3 to 6 & 19 to 22)
External Tension Setting Input
0 to 10V, input resistance 20 kΩ
Contact Input
Auto contact (12 V DC; 10 mA)
Contact Us
Please use this form to submit your inquiries, feedback and/or requests to NIRECO.