PRODUCTS
Edge Position Control Systems(Sensors)

Edge Position Control Systems(Electric type)

Edge Position Control Systems(Hydraulic type)

EPC related components

Tension Control Systems

Automaic Register Control Systems

Print-to-cut Register Control Systems

Other Related Equipment
Compact Guide Roll Mechanism PGR series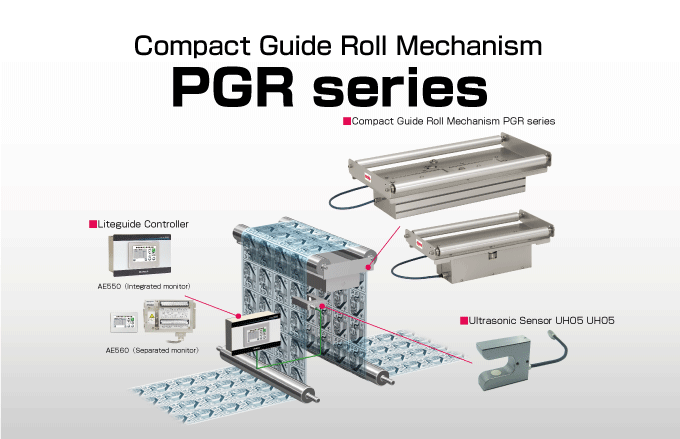 Overview
Compact EPC system for that combines operability and functionality
This is an important control device that quickly corrects meandering of the running web in the intermediate processing process of web product manufacturing, and is indispensable for quality improvement and cost reduction. It is used in combination with a sensor that detects the edge of the web and a Liteguide controller. In order to meet the needs of the flexible packaging market, the system is characterized by its compact size and the fact that it covers the entire circumference to prevent foreign matter from entering.
Feature
Support for space saving
Reduction of operator burden (labor saving)
Increase productivity and quality
Cost saving via reduction of defective products and film consumption
Reducing waste and contributing to environmental conservation
Compact but full of functions
Specification
MODEL
PGRⅠ
PGRⅡ
Roll span
270mm
150mm、175㎜、200㎜
Roll diameter
φ30、φ50
Roll surface length
450㎜~650㎜ *50 mm increments
250㎜~500㎜ *50 mm increments
Roll material
Aluminium A5052 (White anodizing)
Tension
MAX 200N
MAX 100N
Line speed
MAX 100m/min
Adjustment
±20㎜/ Angle: 5 degrees
At Roll span 150㎜:±14㎜
At Roll span 175㎜: ±17㎜
At Roll span 200㎜: ±20㎜, Angle:7 degrees

Mass
10.9~14.1kg
+15VDC(100mA)
-15VDC(50mA)
Power source voltage
24V DC
Power consumption
12W
Ambient operating temperature
0~±50℃
Ambient operating humidity
35~85% (no condensation)
Contact Us
Please use this form to submit your inquiries, feedback and/or requests to NIRECO.