PRODUCTS
Edge Position Control Systems(Sensors)

Edge Position Control Systems(Electric type)

Edge Position Control Systems(Hydraulic type)

EPC related components

Tension Control Systems

Automaic Register Control Systems

Print-to-cut Register Control Systems

Other Related Equipment
ULTRASONIC SENSOR UH01 series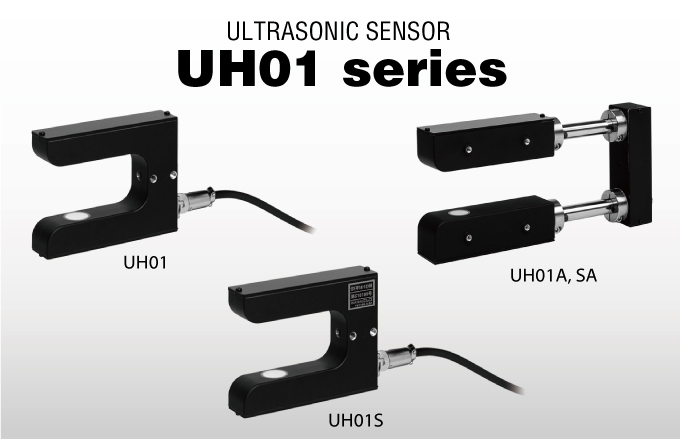 Overview
The Ultrasonic Sensor UH01 / UH01A is designed especially to detect transparent film and photosensitive material in EPC(Edge Position Control)system.
It can detect the edge of a web with high accuracy, not affected by irregularities in the coating near the edge of transparent film and printed patterns, which is conventionally impossible by optical sensors. Combined with Nireco,s controller, an electrical EPC system and electro-hydraulic EPC system can be constructed. The UH01A is a version of our UH01 ultrasonic sensor with a longer internal length(the distance from the sensor center position to the inner side of the casing). Internal lengths of 200mm, 300mm, 400mm and 500mm are available. The internal length of the UH01 is 60mm (fixed).
Explosion prevention system
Intrinsically Safe Anti-explosion Construction Systems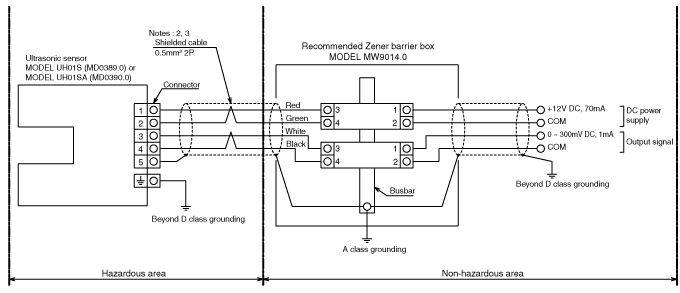 Notes:
This field wiring shows connection with a Nireco-recommended safety barrier.
If a different safety barrier is used, be sure to select a suitable barrier and wire it correctly to avoid compromising the conditions for intrinsic safety construction.
Read "Instruction manual QJ3758.*-E" before beginning wiring work or using the equipment.
Carry out wiring work in accordance with the National Electrical Code ANSI / NFPA 70 and the Local Electrical Codes.
FM intrinsic safety construction Class I, Division 1, Group D, T4, Class I, Zone 0, AEx ia IIa T4.
Specification1
UH01
UH01A
UH01S
UH01SA
Sensor gap
48mm
Effective detection length
8mm
Frequency response
200Hz
Sensor output
Hi mode
When fully closed 0V, When fully opened +5V DC
Lo mode
When fully closed 0mV, When fully opened +300mV DC
Resistance load of at least 2kΩ
When fully closed 0V,
When fully opened +300mV DC
Power supply
DC+15V(100mA)
DC-15V(50mA)
DC +7 to +12V(70mA)
Ambient humidity
35 to 85%RH (no condensation)
Ambient mperature
0 to +50℃
Mass
0.36kg
Contact Us
Please use this form to submit your inquiries, feedback and/or requests to NIRECO.