PRODUCTS
Edge Position Control Systems(Sensors)

Edge Position Control Systems(Electric type)

Edge Position Control Systems(Hydraulic type)

EPC related components

Tension Control Systems

Automaic Register Control Systems

Print-to-cut Register Control Systems

Other Related Equipment
Open loop Tension Control System TCD050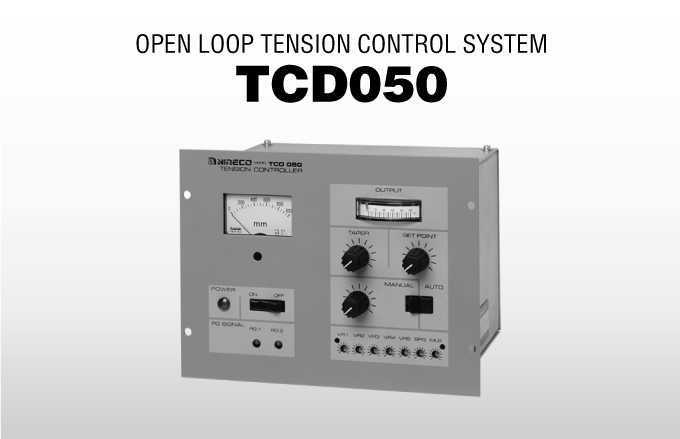 Overview
The TCD050 s a controller for controlling the tension of a web at the unwinder or winder, without using a tension sensor. The roll diameter is calculated by using signals from two generators mounted on the winding/unwinding reel, and a control signal corresponding to the change in the roll diameter is delivered.
Feature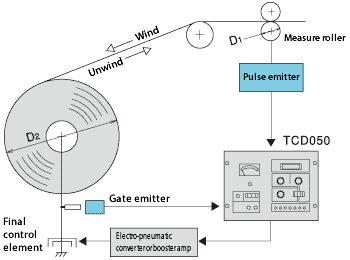 The roll diameter can be measured

The roll diameter is indicated on the indicator while a signal of 0 to 5 V is issued. The TCD050 can be used for other applications such as external taper signals for a closed-loop controller.

Not necessary to use gears

The roll diameter is calibrated internally. It is not necessary to use gears between the measure roll and the pulse generator.

The sequence control makes operation easy

Since a stop signal that is proportional to the roll diameter is output when the line stops, the web is prevented from slackening.

The re-start level allows smooth re-starting because the stop level

immediately before the line stops is stored. In addition, the start level can be set manually with the manual VR by resetting this stored stop level with the reset contact.

Applicable to various brakes/clutches

The control output is available at a voltage of 0 to 10 V and a current of 4 to 20 mA. Using them, the TCD050 can control an electromagnetic brake/clutch and an air brake/clutch.

Taper tension can be controlled

In addition to the constant tension control, the taper tension can be controlled.

Compact unit

This compact unit can be panel-mounted. It can be easily installed in the control panel.

Non-contact detecting system

The non-contact detecting system allows the TCD050 to measure the roll diameter without causing any damage. In addition, it is not necessary to make a roll space for attaching a sensor, which is required with other control systems.
Specifications
Maximum roll diameter
500, 1000, 1500 mm
Outputs
Control output: 0 to 10 V (5mA) and 4 to 20 mA DC
Roll diameter output: 0 to 5 V (2mA) /maximum diameter
Power supply of pulse generator: 12 V DC. 150 mA, 15 V DC. 150 mA
Inputs
Gate generator and pulse generator inputs:
"0": 0 to 1 V or less (10 mA)
"1": 10 to 12 V
12V system rectangular wave;
one pulse per revolution of a winding/unwinding reel.
Contact input
Reset signal, stop signal and output hold signal Contact switching capacity:
15 V DC, 30 mA or more.
Weight
2.6kg
Power supply
AC100/110/200/220V 50/60Hz
Power consumption
5VA
Ambient tenmperature
0 to +50 ℃
Contact Us
Please use this form to submit your inquiries, feedback and/or requests to NIRECO.